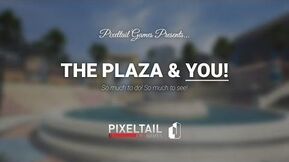 The Plaza is the central meeting place for all players. The plaza is decorated for different seasons and holidays, like Autumn or Christmas.
Found within the plaza are stores which allow the player to spend in game currency on digital items that they can equip or place inside their condo.
View an official map of the Plaza here.
The plaza map will soon be replaced by Lobby 3. Lobby 3 is slated for release in early 2019, and you can see more details on it here.
About the Plaza
Edit
The Plaza's Areas
Edit
The Transit Station is where every player enters the Plaza. The transit station has two subways each with its own tunnel. When exiting the subway rooms, you can find a hallway that leads to stairs to the main section of the Plaza. You could find a cool secret here if you look hard enough!
The Main Plaza houses the Tower, the Casino, the Arcade, Trivia, and the Shopping Area. In the center of this area, there is a fountain with a statue of the Tower Unite icon in the center of it.
In the tower, you can view art in the Art Gallery and ride to the shopping area with the Monorail. Entering the elevators will lead you up to the Condo Lobby. Taking stairs up in the Condo Lobby will lead you to Project 12, one of the bars in the Plaza. You could find a cool secret here if you look hard enough!
The Shopping Area houses 7 shops: Songbird, Rob's Imports, The Toy Stop, Sweet Suite Furnishing, Central Circuit, Upgrades, and The Pop Stop. The Shopping Area leads to the Boardwalk.
The Boardwalk has 2 shops: Celebrations and Fresh Food & Smoothies, 3 attractions currently available: Poseidon, Typing Derby, and Bowling, and 3 attractions coming soon: the Shooting Gallery Ride, Bumper Cars, and Kamikaze. On the right of the boardwalk, you can travel to the beach houses.
At the beach houses, you can watch videos with friends and shop at 2 shops: The Stray and Oasis. You can also find a great view of the ocean here!
What Can You do at The Plaza?
Edit
You can:
visit fun attractions and play games at the boardwalk
Gamble at the casino
Play a variety of games at the arcade (Coming soon!)
Watch your favorite videos with friends at the theater
Buy items at the shops around the plaza
Visit the beach houses and watch videos with friends
Participate in events and minigames occurring around the plaza
Hang out at Project 12
Check in to your condo
Search for easter eggs hidden around the island
The plaza has changed three times so far: Lobby 1 in GMTower (the Resort condo), Lobby 2 in GMTower and Tower Unite, and soon Lobby 3.